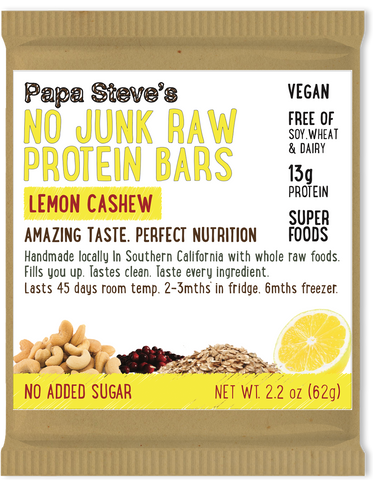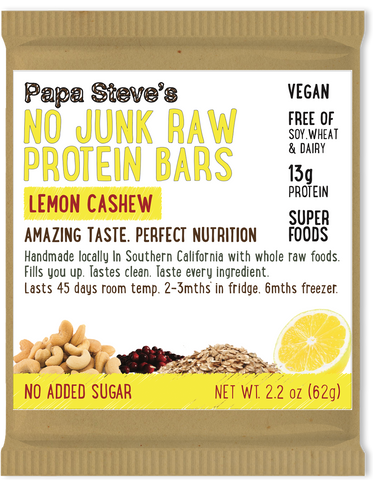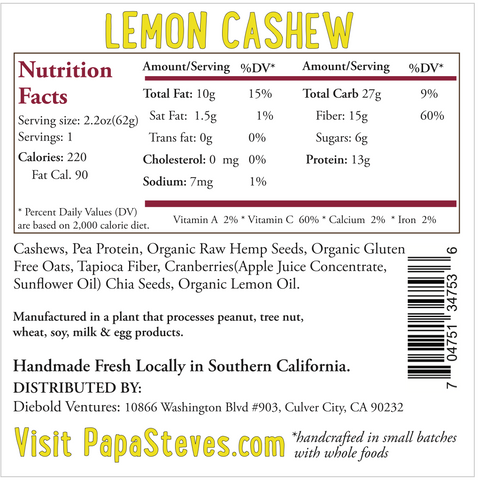 Raw/Vegan Protein
Lemon Cashew
BOX OF 10 BARS
With a delicious mixture of zesty lemon and creamy cashews, these bars are packed with healthy ingredients you can actually see. Just the slightest amount of sweetness and the right texture too. The taste is truly amazing.
See Product Details
Our Philosophy
Clean, Natural Food should Taste Good!
Like most kids, I grew up eating processed, convenient foods (that are terrible for your health). When I went to college, I decided it was time for a change. I wanted to look good and feel good about my body, but didn't know what foods I should be eating. After years of research, I created Papa Steve's with one goal in mind – to make a clean, healthy, high-protein bar that's made fresh and actually tastes good!
Our Mission is simple: To inspire people to live healthy, happy lives by offering great tasting, no junk nutrition, made from real ingredients.
We Believe ...
That truly great tasking foods are the ones made with

real ingredients.

In the

wholesome power

of Mother Nature's raw ingredients.
That

handmade food

is what our body really needs. No processed foods, no preservatices, no candy power bars.
That you should

not have to compromise your health

to have a convenient food.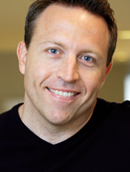 Steven Diebold Founder/Chef
What's in the bars
Ingredients
Organic Gluten Free Oats, Cashews, Pea Protein, Raw Hemp Seeds, Tapioca Fiber, Cranberries (Apple Juice Concentrate, Sunflower Oil), Chia, Organic Lemon Oil.
Nutrition Facts
Calories: 220. Fat: 10 g (0.5 g saturated). Carbs: 28 g (15 g fiber, 6 g sugar). Protein: 13 g. Contains 60% of your daily Vitamin C.
SEE WHAT OTHERS ARE SAYING
SOCAL Running Group taste test
Hear from a AFPA Certified Personal Trainer & Nutritional Consultant
Jamie Corso: Personal Trainer & Fitness Blogger
Product Details
Handmade in sunny southern California, these bars combine mouthwatering zesty lemon with the creamy taste of cashews.
They're so good that many people are starting to call Papa Steve's NO JUNK Raw Protein Bars "The best protein bars on the planet."
As always, these bars contain:
NO chemicals

NO fillers

NO cheap soy protein

NO refined sugar

NO sugar alcohols

NO GMO ingredients

NO gluten

NO JUNK!
Instead, they're filled with real food—most of it locally sourced and organic.
Our Lemon Cashew Raw Protein Bars are a tasty & healthy treat for anyone concerned about their blood sugar levels. With only 6 grams of all-natural sugar from real cranberries, 15 grams of fiber, and 13 grams of high-quality protein, these bars will give you long-lasting energy without spiking your blood pressure.
Cranberries are one of nature's best sources of phytonutrients that offer antioxidant, anti-inflammatory, and anti-cancer health benefits. They also contain a wealth of vitamins and minerals, like manganese, copper, and vitamins C, E, and K.
Top it all off with a healthy dose of monounsaturated fats from ground almonds, plus 13 grams of all-natural raw vegan protein, and you've got a powerfully nutritious food that tastes like a candy bar made by nature herself.
Handmade with Love in Southern California
Don't waste your money (and poison your health) with highly processed bars from big corporations. Instead, trust your health to a small local business that cares.
Here at Papa Steve's, we do everything we can to bring you the healthiest, freshest raw protein bars in the world.
We hand-pick our ingredients from local SoCal farmers days before production so that everything is as fresh as possible. Most ingredients are locally sourced and organic, and everything is handmade with love in southern CA (mixed, formed, packaged, and shipped by hand) every week.
This is why when you bit into a Papa Steve's No Junk Raw Protein bar, you're biting into the freshest, healthiest, and most delicious raw protein bars you can find anywhere.
Shelf-Life & Refrigeration
These are not like other bars that sit on the shelves for 8-10 months before you purchase them. Papa Steve's NO JUNK Raw Protein Bars are made by hand every single week, which means they always contain fresh, raw ingredients.
We recommend storing your bars in the fridge, especially in warm climates and during the summer, to keep them tasting fresh & delicious.
Here's how long your bars will stay good at different temperatures:
1-2 months at room temperature
2-3 months in the fridge
6 months when frozen
(Please note that because the bars will stay good for 1-2 months at room temperature, they are perfectly fine during shipment.)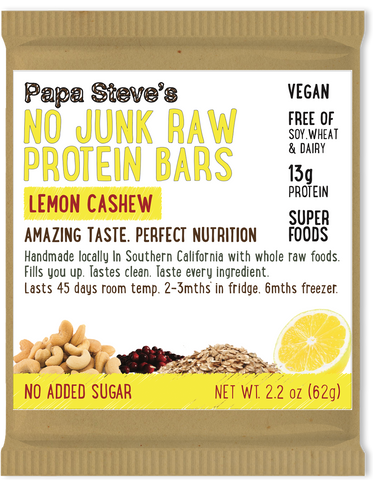 Nutrition Facts
Calories: 220. Fat: 10 g (0.5 g saturated). Carbs: 28 g (15 g fiber, 6 g sugar). Protein: 13 g. Contains 60% of your daily Vitamin C.
Online Price Discount
In stores, each bar is $3.99 + tax. But get a bulk discount online by purchasing them in a case of 10 instead!
(And trust us: once you taste your first bite, you'll be glad you have extra.)
Plus, get FREE SHIPPING on all orders.
Signup to our mailing list & Save 10-50% on future orders!